Scott's progression of training will be hosted here.  Most recent updates will be closer to the top.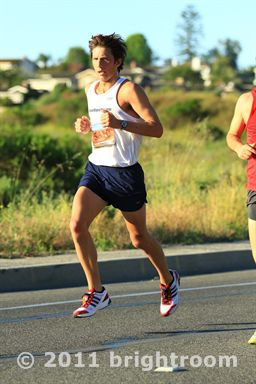 Whew…thank God the month of April is over.  As you can see below the inconsistencies continue. There were a few improvements made along the way, but not the continuous running I need to have those major breakthroughs.  This month my body really told me that recovery was needed.  When I gave it time, it was evident that I needed more.  Two rounds of antibiotics for a sinus/ear infection and a glute/hamstring issue that I'm working through were just a few of the main issues.  Combine that with the fact I had another bachelor party to go to and I'm getting married in a few short days and you can see how my schedule has been a bit hectic and recovery time has been slow.  On the positive side of things, it gave me a chance to recover mentally and physically for the upcoming marathon cycle.  I'm still weighing a few options but hope to have a decision in the coming weeks.
Needless to say I'm excited to be feeling back to 100%. As it is Tuesday, this current week will not be included, but I'm starting to get back into form.  After Saturday's nuptials (WOO HOO!!!) we are headed to Italy for 10 days.  Being that the wine, desserts, and pasta will be flowing like…well, wine, I'll be sure to get some miles in as well.
I'm always looking to make improvements to my running. Whether it's form, core work, diet or anything else that I pick up on, striving to get better in all areas of running are key to being as complete as possible. Right now, I'm focused on getting my cadence (number of times my feet hit the ground in a given minute). Most professional marathon runners hover around 180 steps per minute.  After testing myself for a week or so, I was consistantly around 170.  I'm hoping that I can subconsciously do this within a month or so.
Upon my return I look forward to embracing the coming months and making some significant improvements.    Until then, thanks for reading!
Here is an aritcle that I thought you may appreciate:  http://m.runnersworld.com/race-training/elite-state-mind?page=1
March 18th-24th
March 18th: 12 total. 7.5 warm up. Drills. 5:48, 5:51, 5:46.  1 mile cool down
March 19th: 14 total. Am – 10. 2 x 3 miles (16:23, 16:19). Workout was supposed to be 1000 at 3:07 (5:00 mile pace) with the remaining 600 (5:57 pace).  Was supposed to do this for 4-7 miles but it wasn't happening. Readjusted the work out to do 2 x 3 miles. PM  4 miles in 31:15 on the soccer field.
March 20th: 9 miles in 1:03:24. 7:03 avg.
March 21st: 21 miles. 1 mile warm up. 20 miles in 2:04:25. 6:13 avg. (see below for mile splits)
March 22nd: 6.5 miles. No watch as it was a recovery run.
March 23rd: 8 progression. 49:21. 6:10 avg.  Splits were:  7:16, 6:40, 6:30, 6:13 , 6:01, 5:49, 5:37, 5:13
March 24th: Rest
Mileage Total: 72.5
Long run. 6:15, 6:19, 6:19, 6:20, 6:23 (5 mile total 31:38), 6:19, 6:16, 6:16, 6:11, 6:14 (10 mile total in 1:02:57), 6:16, 6:15, 6:13, 6:16, 6:17, (15 mile total in 1:34:17), 6:02, 6:07, 6:04, 6:02, 5:39 (20 mile total in 2:04:23)
March 25th-31st
March 25th: 12 Total. 7.5 warm up, Drills, 5:45, 5:46, 5:48. 1 mile cool down.
March 26th: 15.5 Total. 11.5 AM. 1:18:55 – 6:52 average.  16 x 300 meters in the street in my regular trainging shoes. 52-54 seconds. 100 meters in between each interval.
March 27th: 9 recovery in 1:03:48. 7:05 average
March 28th: 11 Total.  5 x 2000 on the track in my racing flats. 6:28, 6:29, 6:31, 6:30, 6:30
March 29th: 21 Totoal. 2:17:01. 6:31 Average Mile pace. Newport Beach – Hilly. Fairly tired. 1 minute hard every 6 minutes.
March 30th: 6.5 recovery run in 47:54. 7:15 Average. Ran up on Stanford's campus
March 31st: Rest
Mileage Total:  75
Long Run. 7:21, 6:25, 6:37, 6:48, 6:32 (5 mile total in 33:44), 6:41, 6:36, 6:37, 6:35, 6:32 (10 miles in 1:06:47), 6:31, 6:21, 6:18, 6:14, 6:15 (15 miles in 1:38:29), 6:30, 6:31, 6:23, 6:25, 6:11 (20 miles in 2:10:30), 7:01
April 1-7
April 1: 3 w/up, drills, 5:35, 5:40, 5:37 1 c/d.  7 total. Forgot stomach medicine – newpor
April 2. Rest – sick
April 3. 10.5 in 1:13:07  6:58 avg.
April 4. 14 total. 10 am 3 w/u. 5 miles on track. 400 in 71-74 with 1200 @ 5:40 pace. Did 6 400's and stopped. Went one direction and think I hurt my hip.  4 pm
April 5. 6.5  in 44:47  6:54 average
April 6. sore knee
April 7. rest
Mileage Total: 38 miles
Apil 8-14
April 8: 10.5 in 1:02:05  6:52 average
April 9: 12 Total. 1:23:09 – 6:56 Average. Sore Hamstring
April 10: Rest sore hamstring
April 11:  45 min spin
April 12: rest sore hamstring Chicago
April 13: rest sore hamstring Chicago
April 14: rest sore hamstring Chicago
Mileage Total: 22.5 miles, 45 minute spin class
April 15-21
April 15:  6, no watch
April 16: sick, ear infection
April 17: sick, ear infection
April 18:  6 no watch  hip still sore
April 19: 7.5 in 50:29   6:44 average
April 20:  9 in 58:00   6:27 average, mini fartlek
April 21:  4 in 32:00 with Lindsay
Mileage Total: 32.5 miles
April 22-28
April 22:  9.5 total. 5 warm up, Drills, 3 miles in 5:40, 5:47, 5:38. 1 cool down
April 23:  10.5 total.  1:12 and averaged 6:43 miles.  4.5 Warm up. 15 x 400 on the roads in regular training shoes. Times were 72-75.  Labored through it as I hadn't done any speed work lately.
April 24:  8 – focused on a quicker cadence
April 25:  9 Total. 3 warm up. 1 x 3k in 9:42. 1 x 3200 in 10:58 – was on pace the first mile. 1 cool down. Legs were still tired. Was supposed to be 4 x 3k in 9:45. This was on the roads
April 26:  10 total. 1:07:47 and averaged 6:47 miles
April 27:  8 total. 50:45 averaging 6:33 miles.  Del Mar Loop – a .25 mile long road.
April 28:  10 total. 58:14 averaging 5:49.  Last mile in 5:07. I went two minutes hard every 6 minutes.  6:40, 5:59, 5:50, 5:47, 5:40 (5 miles in 29:56) , 5:43, 5:47, 5:51, 5:43, 5:07 (10 Miles in 58:14). I did this work out on my the cirlce that my fiance's parents live in. It's .25 miles in each direction, but the only flat land in the area.  Was hoping to go further, but my excitement causing me to start out too fast combined with my boredome got the best of me. I was pumped about the last mile in 5:07. Glad to see I had the strength to do that at the end of a 10 mile run.
Mileage Total: 65 Miles

March 4-10
March 4:  11 miles – 6.5 warm up, drills, 5:44, 5:44, 5:50, 1 cool down
March 5:  11.5 – 4.5 warm up, 15 x 500 @ 1:34. On the roads with my regular training shoes.  Felt tired from beginning but got through it. 1 cool down
March 6: 7 AM recovery run, 49:01 – 7 Min average
March 7: Sick
March 8:  Sick
March 9:  20.5 Miles. 2:12:49 – 6:28 average. 6.5 Hilly warm up. 9 x 1k on the track with 400 meter jogging rest. Each K was 3:12-3:15 (target was 3:15). 6.5 Hilly cool down.
March 10: 9.5 miles. 1:06:15 – 6:58 average. Hilly recovery run
Total: 59.5
Feb 25-March 3
Feb. 25:  10 miles. 5.5 warm up, Drills, 3 miles at 5:44, 5:51, 5:51, 1 cool down
Feb. 26:  5 miles. 3 warm up. 1 mile at 5:20 – couldn't move after that
Feb. 27:  0
Feb. 28:  8 miles with brother in law. 7:30-7:45 pace
March 1:  10 miles. 1:05:04 – 6:30 Avg. Attempted progression:  7:00, 6:41, 6:33, 6:13, 6:16, 6:05, 5:55, 5:54 (2 mile cool down).
March 2:  14, 1 minute hard on the 6 minute marks. 1:30:56 (6:29 Avg)    1 minute hard on the 6's. Went at 10 AM and it was about 80 degrees. Was trying to go 16-18 but wasn't happening
March 3:  6 miles recovery, 40:11, 6:42 average
Total:  53
Wooo hooooo – finally back.  Had a little cold in the middle of the week and was forced to take two days off, but overall had a great week.  Because I missed my Thursday workout, I decided to put it into the middle of my long run on Saturday.  It was definitely tough and brought back some marathon training memories.  Basically I did 9 x 1k (3:12-3:15—which is 5:14 mile pace) with a 6.5 mile warm up and 6.5 mile cool down…both of which were extremely hilly.  Very tired on Sunday, but was glad to see I have that type of fitness right now.
Feb 18-24
Feb. 18 :  11.5 miles 15 x 400, on the road in regular training shoes, felt good. 72-75 seconds
Feb. 19:  10, Recovery
Feb. 20:  13, 3 mile warm up, 3x5k on the track in my racing flats. Bit of a wind. Didn't feel strong going into it but was very happy with the outcome.  400 meter jogging rest.  Splits were:  16:42, 16:43, 16:42
Feb. 21:  6 AM   4 PM   Didn't time either of them as I was more focused on recovery.
Feb. 22: Vegas
Feb. 23: Vegas
Feb. 24:  Vegas
Total:  44.5
Let's just say 3 days in Vegas when you rarely party any more, can have some consequences in regards to your physical health.  Didn't really feel normal all week.  Feb 26th was one of the worst runs of my life.  I actually felt okay on Monday and tried to come back to do a tempo run. Let's just say it unfortunately (and that is being EXTREMELY kind) went something like this:  http://www.youtube.com/watch?v=SIZU_NZRfjA  My long runs continued to struggle so I'm really hoping next week can bring some more normalcy to my schedule/life/butt.
Feb 11-17
Feb 11:  11, drills
Feb 12: 4  felt terrible
Feb 13: 0
Feb 14:  45 Minute spin class
Feb 15:  0
Feb 16:  11.5
Feb 17:   7
Total: 33.5
Finally felt closer to my old self. Did my speed workout on the roads in my regular training shoes and felt smooth.  Came back later in the week and had one of my best workouts ever.  3 x 5k with splits of 16:42, 16:43, 16:42.  This was my last interval session of this particular cycle. I'll starting over from the beginning with 10 x 1k and dropping my time down.  The end of the week was capped with my bachelor party in Las Vegas. With 22 guys.  No way I was going to fit running into the trip.  I'm just hoping it doesn't take me too long to recover from.
February 4-10
Sorry for the lame post this week, but not too much to report – which I guess is a good thing during recovery time.  My legs were much more tired than I was anticipating based on the slow time of my race.  I'm guessing it was some cumulative fatigue of my program catching up to me.  I now have about 2 months to get ready for the Hollywood half and it can't come soon enough.
Feb 4: Rest
Feb 5: 3 miles on the grass
Feb 6:  5 miles, 33:58 – 6:47 Avg.
Feb 7: 8 miles, 54:59 – 6:52 average, 4 strides
Feb 8: 10 miles, 1:09:41 – 6:58 Average, 4 strides
Feb 9: Rest
Feb 10: 6 mile progression in 38:16 (6:23 Avg). 6:57, 6:44, 6:23, 6:12, 6:04, 5:55
Total:  32 Miles
January 28-February 3, 2013
Not close to a PR, but close to a PB
Whenever you get the opportunity to race, it is important to take as much away from it as possible. More often than not, just like in life, lessons learned typically happen when something doesn't go your way.  Maybe  you feel worse than you should within the first few miles of a race, or the pack you are running with picks the pace up way too early. Maybe you get a blister or side ache.  Or maybe it is not just your day.  In an oxymoron type fashion, I probably ran about as poorly as I could have on Sunday at the Surf City Half Marathon, but had one of the best times as my brother Brian came out to run.  Last time we had a chance to race together was 2006, and I use that phrase loosely as about the only shared time was before the gun went off.
I was hurting within the first two miles on Sunday and somehow held it together until 7-8 in somewhat of a respectable fashion (see splits below).  My pace was off from the beginning. Blood sugar felt low, legs felt heavy, hillier course than I'm used to, sun was out in full effect etc, etc…As the Hanson's metaphorically say, "it wasn't my time to withdraw from the bank."  While I was far off from earning a "personal record" I did end up having a great experience. Just about the point where the wheels were falling off, I turned around to see Brian gaining on me quickly (right around mile 9 or so).  He passed me and I hung on for dear life.  I knew that I didn't get this opportunity too often, and there was nothing that would stop me from finishing with him. While there were a few minor hiccups in the final miles, hiccups that I would typically black out, I certainly will not do so in this particular instance.
While the time didn't reflect either of our capabilities, the race certainly reflected our relationship and what is so great about this sport. He was the reason I started running about 15 years ago, and here he was again, leading me through a very tough patch in a race that would have otherwise been very disappointing.  I couldn't help but think to myself that he has a 50k this upcoming Saturday – so that put a few miles in perspective.
While I had a great Tuesday workout, I didn't realize until Thursday that it was the wrong session for me to do the week of the race. Part of my training plan calls for a two Main threshold sessions per month. This is either:
1. A run at half marathon race pace which increases by a mile each go around (think tempo run)
2. An alternating workout of 5-7 miles where a portion of each mile is done at 5:00 minute mile pace with the remaining portion being at just below 6 minute mile pace
Part of the reason they are done every other week is that it takes your body some time to recover from such a session.  Not paying attention to details, I learned that my Tuesday run was supposed to be 3 miles at race pace – not 7 miles about 5 seconds slower than race pace.
Big shout out to Lauren Mitchell with a BIG PR (to read more check out Lindsay's blog on her here)!  Also, thanks to Lindsay, Jen, and Tim for coming out to support.  These race experiences are so much more fun and easier with a great support system – and I am fortunate to have the best.  Lindsay was pumped as she didn't have to ride her road bike next to me, helmet and all….a la 2011 Long Beach Marathon
In this particular instance, I'm not sure what to chalk the day up to, I just know that the race was one of my Personal Bests….and for that I am fortunate.
Jan 28:  11 — 6.5 warm up, Drills, Miles in 5:48, 5:59, 5:52, 1 cool down
Jan 29:  11 – 3 warm up, 7 miles on the track, alternating 800's – 2:30 and 2:57. Ran 38:13 for the total 7.
Jan 30:  9.5 – 1:08:30, 7:12 average
Jan 31: Rest
Feb 1:  5.5 total – 7:30 average
Feb 2:  4 total, 4 x 100 meter strides
Feb 3:  Surf City Half Marathon, 1:16:55….14 on the day
Total:  55 Miles
HB breakdown
5:29
5:31
5:33
5:42
5:30
5:29
5:44
6:08
6:03
6:15
6:28
6:03
6:06
JANUARY 21-27, 2013 Well, based on my post last week, I didn't exactly get to where I wanted to mileage-wise. One rule I learned about marathon training long ago was that things don't always go as planned and I just need to roll with it.
The week started out great with my 15 x 300 meter effort on the roads in my regular Brooks training shoes. I was cruising in 52-54 seconds and actually felt quick for the first time in awhile.
I was trying to get 1-2 double days in there and got none in. Partially because it rained Thursday-Saturday…which to my high school aged self living in Nebraska would have been no big deal. To my current 30 year old, working full time self, it means two tread mill runs including one which was a third of what it was supposed to be (see the 24th).  I was supposed to do 3 x 4k and b/c of the weather, it actually was raining hard that morning, I went to the gym at our apartment. I did one rep at 5:20 pace and felt terrible. A combination of running on a treadmill and our management company keeping our gym at approximately 85 degrees and I was about to pass out.  Factor in my 4:30 AM wakeup call and my motivation was not at an all time high.
I was happy to come back on the 25th and have my fastest long run ever – in a fartlek type effort. This was in the rain w/ no headphones so it didn't necessarily go by fast, but I was happy with the effort to say the least.  This run didn't necessarily come easy to me so I was happy to kind of grind my way through it. Paid the price afterwards as I was in the fetal position for a few hours, but I guess that is just one of the many joys we receive while getting into shape! I had a nice recovery run on Saturday the 26th, and then my birthday was on the 27th – thanks for the well wishes!  Sunday was a true rest and recovery day as my body was probably shocked by the events over the prior 36 hours.
Running the Huntington Beach Half marathon this Sunday, so have one hard workout tomorrow (Tuesday) with the rest of the week prepping for that day. Interested to see how my body responds to training and how long I can redline at 5:20 mile pace for. It still feels fairly quick to me so hoping to get some competition running at close to the same clip.
21st:  11 Total, 6.5 warm up, Drills, Miles at 5:43, 5:53, 5:54, 1 Mile Cool Down
22nd:  10.5 Total, 5 warm up, 15 x 300 with 100 jogging rest, 2 cool down – on the roads
23rd:  9.5 Total, 1:07:16 (7:05 Average)
24th:  5 Total, 2 warm up, 2.5 Miles at 5:20 Pace – On the treadmil
25th:  18 Total, 1:47:28 (5:58 Average). Went three minutes hard on the 6 minute marks (i.e. at 6 min, 12 min, 18 min etc…)
26th:  4 Total, 7 minute average — Treadmill
27th:  Rest
Total:  58 Miles
Happy Training!
JANUARY 22, 2013 Although my mileage is not where I would like it to be, I was happy with this week's efforts as I put in a few hard, solid workouts.  Individually they might not be that impressive, but with heavy load the previous week, I was glad my body is starting to respond a bit.  Coming from a very low mileage background growing up, I've learned it takes my legs a few weeks to get to the point where 80-85 weekly miles doesn't completely disintegrate my legs. I only get the chance to run a tempo run once a month, so I was a bit disappointed as I didn't knock it out of the park. It was a bit windy that day, but the fact is that 5:20 pace still feels way too fast for me to be capable to run it for 13.1 miles.
Because of the cumulative fatigue, I took a day off in the middle of the week – which I didn't even commit to doing, so I didn't reap all of the benefits. When I wake up at 4:30 am, and am not as motivated as I should be, I sit on the couch and stare at the clock until a certain time. For instance, if it is 4:36, I will give myself until 4:40 before starting my stretches/putting on my running clothes. I intently stare at the clock to make the minutes feel longer – which unbelievably has the opposite effect as it did in high school. Anyways, I was up early, put on all of my running gear, stretched, but just knew something was off. Had the inner battle in my head deciding if taking a day off is better for my running than to fight through it…and 20 minutes later I decided to head back to bed.  My legs felt better on Friday's progression run, so looks like I made the right decision.
Was very pleased with the long run.  My first two miles were around 7 minutes with the remaining 20 at 6:00-6:25.  The most satisfying part of this run was the fact that I felt heavy starting at about mile 4. Unlike last week where 6:00 pace felt like 8 min pace, my legs were tired within the first few miles.  It was great to respond in a way that I haven't for a long time and find a groove for the remaining run. Longest run since Sept. and was pumped to have back to back weeks with 20+ mile long runs.
Jan 14-20
14  10.5, 6 w/u  drills, 3 at 5:45, 5:54, 5:51 , 1 c/d
15   10, 4 w/u, 5 tempo, 1 cd…5:20, 5:19, 5:26, 5:24, 5:22 (roads) racing flats
16   9, 1:04:46, 7:12 avg
18  12, 2 wu, 9 progression, 6:20, 6:17, 6:08, 6:02, 5:59, 5:55, 5:48, 5:49, 5:46   1 c/d
19  22, 2:20:12 – 6:20 aveage
20  4.5, no watch, easy run
8  10.5, 3.5 warm up, 15 x 500. road. average 1:34, 1 c/d
10  12, 3 wu, 4x3k track. 10:03, 10:01, 9:59, 9:59, 1 c/d
11 6.5, 45.53, 7:03 avg. 6 x hill
12  20, 2:03:47, 6:11 averaged.  2 yard on the 6's
1   6 no watch, treadmill
2  10.5, 3 warm up. 7 miles on track in 39:17. 400 in 75, 1200 was 1:20 per lap. 1200's were 3-5 seconds faster than they should have been
3  8, 6 x hill legs tired. felt better on the hills
5    8  1 am, 7 pm, 6k race at 5:10 pace — idiots messed up the race – got second
24  9.5  3 w/u, drills, 5:38, 5:53, 5:55 — hawaii hilly
26  10.5, 1:11:21, 3 w/u   15×400 @ 75 0on the road. 2.5 cd
28  red eye from hawaii the night before
29   11.5. 3w/up  6×2000, 6:34, 6:40, 6:39, 6:40, 6:37, 6:39. Road in MDR
17   8.5  56:07, 6:38 average. 5:46, 5:48, 5:51
19  6,  3 w/u   3 miles at HMP, windy. Shit twice.. 5:13, 5:19, 5:25
20  16  1:41:24,  1 min on the 6:'s, 6:20 average
21  6 no watch. fly to hawaii
22  9  59:29, 6:37 avg. Hawaii hilly, 10 x hill
23  6 with shelby no watch
10  7.5, 49:00  6:30 avg.  3 miles at 5:40, 5:54, 5:46
11  7.5, 49.21, 6:35 avg. 15 x 300 @56 on roads
12  7.5, 52:10, 6:58 avg.
13  9, 2.5 w/u  8 x 1k @3:20, 2min jogging rest which is 400. Santa monica track
15   13.  1:21:59, 6:18 avg.   1 min hard on the 6's
16  4.  27:53, 6:58 avg. 54.5 total
JANUARY 14th, 2013 .  Just a few days into the new year.  Hopefully your resolutions are still that, and not just memories at this point.
Like many of you, the holiday season is a great time to reflect on the year that was, and just as important look at the future to see how your experiences (or lack thereof) can make you a better father, worker, husband, wife, human, or as it relates to this blog – runner.  Whether you are trying to live a healthier lifestyle, lost a bet, or getting bribed by some coworkers, this sport takes consistent dedication to be great. Pending on the seriousness of your running goals, this dedication will vary – but to be the best you can be and maximize your potential, it is essential to constantly assess your progress and make changes as needed.  Before that, a realistic, yet difficult goal should be established. One that you or your running group creates. One that gives you that extra motivation to run get up at 4:30 am….after working for 12 hours the day before….when it is 35 degrees outside (I live in CA – that's cold out here!).
Now that I have been grinding away for a few years and trying to get my body where it needs to be to compete at a very high level the question of my running future often gets asked, whether it be that voice inside of my head or from one of the many people in my support system: When is my next race? What am I training for?
As I've just recently gotten over a recurring knee injury after the Chicago race, I had some time to lay out my goals – both long and short term.  Both exciting and daunting.
With that being said, my running efforts and programs will be to qualify for the 2016 Olympic Marathon Trials.  With those great folks (bastards) over at USATF lowering the standard another minute, I will be focusing on breaking 2:18 in the marathon or 1:05 for the ½ marathon.  Nate Jenkins, who has been coaching me since this past summer will continue to bestow his wisdom upon me, aka kick my ass on a weekly basis.
The second "exciting" part of this post to let you know that Lindsay's pregnant with quadruplets!  Kidding.  I am going to post my weekly training on this site complete with commentary about how the prior week went – WOO HOO! One of my frustrations when researching how to get better has been the lack of information out there in regards to specific competitive programs as it seems like everyone is trying to hide their little secret to what has made them great. Not this guy.
One of the paradoxes that I've found in the marathon is that while it takes an overly competitive, driven, motivated, and seemingly crazy person to train for this race– I have yet to be in a situation where I was competing against my fellow runners more than I was working with them during the actual race.  Very rarely should you have a kick after 26 miles (in fact Nate emailed me Chicago preparations and said my kick started at mile 20…wtf) and at the end of each of my races, there has been a point where I am satisfied with the job done…or more likely, I'm too woozy to care at that point. Either way, I want others to be able to look at what I'm doing to hopefully improve in their own running and not hoard all the information that I've been fortunate enough to gather over my 14 year career.
I'll do my best to update the blog each Monday. If you have any questions or need clarification don't hesitate to ask!
Looking forward to the next couple of years with you!